It's football season! Whether we're cheering on our favorite Demon Deacons or our pro love, the Jets, we can't help but be inspired to cook a feast for our friends to celebrate the big games. We've whipped up a few great new Game Day recipes over the past few weeks and thought it would be fun to share as part of our new "Make My Monday" cooking and DIY series. Serve these favorites at a party or just for a Sunday supper in front of the TV - they're guaranteed to be a hit!
Buffalo Chicken Sandwiches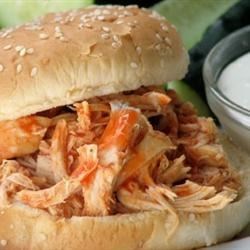 Image via allrecipes.com
Literally, one of our favorite easy recipes, shared from our sis.
Easy, spicy and low-cal, this is a perfect recipe for a crowd and re-heats beautifully. Cook on the lowest longest cycle in the crock pot and serve on mini slider rolls for an easy DIY treat. Put a bowl of blue cheese crumbles (dressing works too) and tomato slices out so people can make their own sandwiches.
Mom's Chili
Image via pinterest
We've had this chili ever since we were little, and it's still our favorite recipe, one of the easiest we make. Start by browning a pound to pound and a half of lean (we use 80-20) ground beef with salt and pepper. It's your choice how to proceed next - you can add in powdered chili mix or combine your own blend of chili powder, salt, pepper, nutmeg and cumin to taste... the result is usually about the same. We like extra chili powder. Add in half a finely chopped Vidalia onion for flavor. Then, add in a can each of chopped tomatoes, tomato paste, kidney beans, black beans and pinto beans and one can full of water. Let simmer about 20 minutes, or until thickened.
Jalapeno Bloody Marias
Our own image from today's brunch at Smith Commons
Our new favorite twist on Bloody Mary's? Bloody Marias, made with tequila. They give the cocktail the extra "kick" it needs and work at any time of the day. To make, infuse a reposado tequila (Cuervo works just fine) with sliced Jalapenos for a week or two. Combine with your favorite house-made or store-bought bloody mary mix (we like the V-8 bold and spicy if we buy it) and serve with a lime wedge. Ah-maz-ing. Thanks to Town Hall in DC for the inspiration - and to Smith Commons in DC for making the best house mix we've tried in months.
Hamburger Cookies
Easy and fun to make, these cookies are a perfect addition to any party - plus, who doesn't love Grasshoppers and Nila Wafers? If you want to skip the colored flaked coconut, that's fine - we usually just use green, yellow and red icing. The cookies are even better a day later, after they've softened a bit.
Want more recipe ideas? We've been saving our favorites on
Pinterest
- feel free to follow and / or share your suggestions!
Do you have a favorite Game Day recipe? Leave it in the comments, below.