Word of romantic V-day specials is pouring in...but what about that other holiday, the one coming up on Sunday? Yes, it's the Super Bowl, and although our beloved Jets aren't playing, plenty of people will still be partying. Enjoy these great bar deals - we'll post more as we get them!
Café Saint-Ex
:
The Super Bowl has turned into the Beer Bowl at Saint-Ex. To honor the two teams in the game, Packers and Steelers, they're offering all-day food and beer specials and bringing in beers from each of the teams' hometowns: Leinenkugel from Green Bay and Iron City Light from Pittsburgh. The 14th St. hotspot will also be serving an upscale take on Super Bowl bar bites like Chicken Confit Tater Tots with Dijon aioli, Potato Skins with prosciutto and fontina, and Escargot and Goat Cheese Poppers.
Nage Bistro:
Sports fans start early, and Nage is welcoming Super Bowl morning with a delicious Super Bowl Steak Sandwich at their popular brunch. Served "Pittsburgh" style, the meaty sandwich comes with melted Wisconsin cheddar, smoked onions, Tabasco aioli and a heavy dose of their much-loved truffled frites. Diners can wash the sandwich down and get ready for the game with Nage's Bottomless Mimosas and Bloody Marys for $15.
Whitlow's on Wilson:
Sports fans won't miss a second of the game on this Clarendon watering hole's giant 101" flat screen TV. From 5 p.m. until the game ends, Super Bowl Sunday on the Big Screen guests will enjoy beer specials like $10 pitchers of Yuengling or Miller Lite, $3 Bud Light drafts and $4 16oz. Coors Light aluminums, and food specials on traditional Super Bowl snacks like ribs, jalapeno poppers and of course, their delicious Buffalo wings, plus $2 off all appetizers. And guests are encouraged to stick around after halftime for an exciting raffle and chance to win Whitlows' gift cards and more.
Old Glory: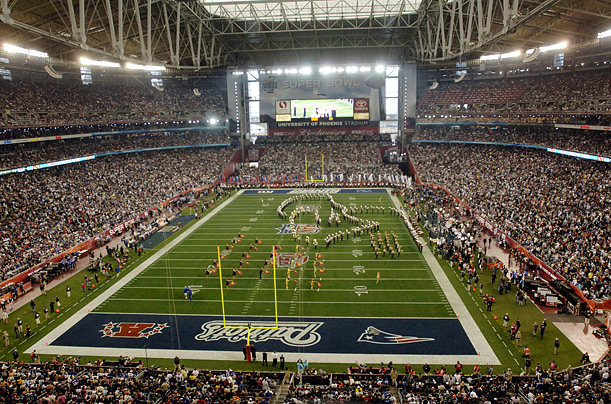 There's no better way to celebrate the Super Bowl than with good BBQ and beer – especially when it's all-you-can-eat. Renowned for their authentic BBQ, Old Glory in Georgetown is offering an All-You-Can-Eat Game Day Menu upstairs and on their deck, with endless helpings of Super Bowl snacks like Pork Sliders, Mini Cheese Steaks, Chicken Wings, "Build your own" Nachos, and a full fixin's bar with condiments.
Tickets to Old Glory's Game Day celebration are available for $20/person online
and include door prizes, drink specials and more.

Third Edition:
For those who think Super Bowl is more about food than football, this Georgetown bar is offering hungry sports fans All-You-Can-Eat menus, a Tailgating Tiki room and Chicken Wing Extravaganza. Guests can start the game off with Sliders, Pulled Pork Minis, a Chili station and more, and then make their way over to nibble on unlimited Chicken Wings in varieties like Garlic Parmesan, Caribbean Jerk, Honey BBQ – and pretty much any other type of wings known to man. The evening will also include DJ sets, a wing eating contest and more. Tickets to Third Edition's Super Bowl celebration are available for $25/person online and include door prizes and three beer tickets.