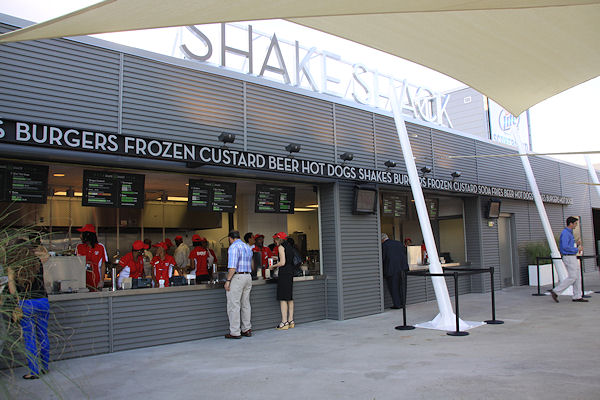 JDLand.com has a series of fabulous images, including this one.
Move over, Ben's Chili Bowl, there are new concession vendors in your ballpark. Today, National's Park debuts four new food vendors on the just opened Miller Lite Scoreboard Walk. While we're normally not so into baseball, we're very into the new look of this addition to the field, which includes a park-like atmosphere, attractive patio-style furniture, turf "grass" and of course, four great restaurants, including the ever-popular Shake Shack, El Verano Taqueria, Blue Smoke Barbeque and Box Frites, all places we would love to find a hot dog and beer alternative during our mid-game snack break. Not that there's anything wrong with a great hot dog, mind you.
The Scoreboard Walk officially debuts tonight, but early reviews signal that this will be a hugely popular addition to the park. See great coverage from
The Washington Post
and
JDWalk.com
for more details.