Welcome to Deacon's new plaything, Splurge vs. Steal. A true shopper knows when a bargain buy is a no-brainer (thank you Loehmanns, Filenes, and TJ Maxx) but the true beauty is knowing when cheap-chic is worth the purchase or just misses its designer inspiration.
So check out our first Splurge v. Steal of the week. We'd say this a no-brainer, but want your opinion.
Are you the splurge or the steal?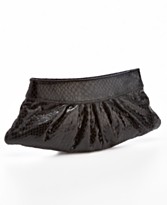 Steve Madden black faux snakeskin clutch, on
sale for $27 at Macys.
OR
Lauren Merkin's "Eve" faux croc in black patent, $180 at
Lauren Merkin.com